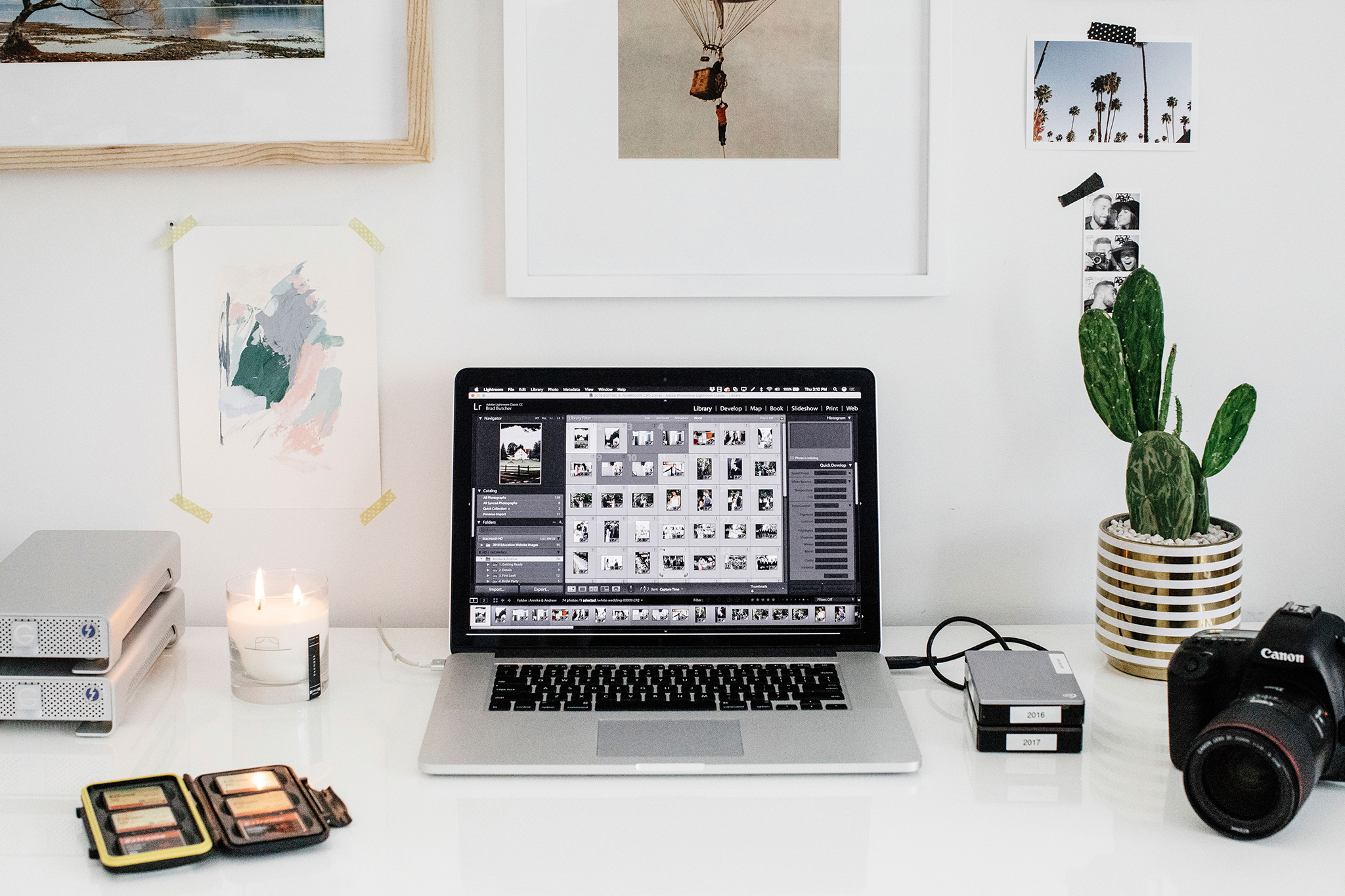 Editing & Workflow
4-Week Online Course walking you through our entire workflow & editing process from beginning to end. Includes over 2 hours of video, 90+ pages of content, and access to a private forum to ask questions and learn together.
sold out
THE NEXT COURSE...
COURSE START DATE: TBD
COURSE LENGTH: 4 Weeks

REGISTRATION OPENS: TBD
CLASS BEGINS: TBD

NOTES
- This is an online course!
- Seating is limited! Once all seats are sold there will not be additional seats opened up.
- And the best part... you'll have lifetime access to ALL course content (PDFs, screencasts, and forums)
WHAT YOU'LL LEARN
WEEK ONE
What to do before, during, and after a shoot to prepare for a successful editing experience

Helpful gear & resources

Foundational homework assignment will get you on the right track for finding your unique editing style (this might be one of the most important pieces of this entire class!).
WEEK TWO
Tips for increasing efficiency in your editing and backup solutions

What hard drives we use, how we use them, and how we safely back up every image in several different locations

Culling a wedding using Photo Mechanic

Keeping CF/SD cards organized on a wedding day

Organizing 4000 images to digestible categories to prepare for editing
40 min screen cast included!!
WEEK THREE
Our entire Lightroom editing process

Building your own presets

Keeping your style consistent

How to use Lightroom's tools to achieve your desired look

Tone curve, HSL, camera profiles, adjustment tools, graduated filters, split toning, lens corrections, the spot removing tool, and MORE!!!
1 hour 40 min screen cast included!!
WEEK FOUR
Exporting images so that they look crisp and beautiful for prints, social media, and blogs using BLOGSTOMP

How we use our online gallery to deliver images to clients, automate cart reminders, send images with a click of a button to clients/wedding vendors, and auto-fulfill 90% of our orders!

Finishing steps for archiving all your hard work.
"Brad and Jen's class on Editing and Workflow was a huge turning point for my business. It's been over a year since my time with them and I'm still just as grateful as I was day one of their lesson. Every time I import photos, tweak a preset, or look for new gear to improve my workflow, I refer back to them. What they had to share was thoughtful, thorough (SO thorough!) and honest. They were completely transparent about their experiences and what they had found to work best for them. This saved me years of trial and error and I could not be more thankful. My business was new at the time, so after completing their course, I was able to streamline my workflow right from the get-go. I understood how to manipulate each editing tool in Lightroom and actually achieve the look I had in my mind. That feeling was incredible! Having full control over my process and an understanding of the tools in front of me gave me the confidence I needed to continue to push my photography business forward. I'm still realizing the full impact Brad and Jen have had on my business and will forever e rateful for them!"
- Khiara Labrie Photography
"Brad and Jen's Editing and Workflow course totally revolutionized my thinking on how I approached the post processing side of my business. They helped me to streamline my process so that I could spend more time shooting and on client interaction. Not only did they help me expedite my workflow, but they helped me to understand better my editing process and the reason behind how colors work and ways to fix things more efficiently. Over two years later I still find myself going back to the information they provided to refresh and relearn what they taught. When I had questions they took the time to answer them in great depth so that I was able to learn and understand. I couldn't recommend their teaching more!"
- O'Malley King Photo
Regarding my personal experience with the editing & workflow class, it gave me a solid standard of how to think through a realistic workflow for my business, tweak it and perfect it to allow me to complete tasks faster, and to recognize the areas where my workflow was weak or even dangerous to my couples. I had things backed up in a really sporadic way, and now thanks to your technological recommendations and the way you walk us right through your back-up settings, I know my clients' images are always safe. It helped so much to have your equipment and gear recommendations, but also to have it explained in such a way that I could understand why you chose what you did, evaluate if it works for me, and implement it as soon as possible.
As we worked through editing, I was grateful for what strong listeners Brad & Jen are. Their attentiveness made me understand they actually care, and desire to see mentees to succeed. By walking us through the reasons why we wanted to edit (for the type of style and nature of the stories we want to tell and brand we want to produce), the Butchers helped each student lay a foundation for all future editing. If it didn't fit in the filter of what we want to produce, is it necessary? What will make good art great, and what will make great art known by others? Asking deeper questions and requiring us to think through our own style (but not negate it), Brad and Jen are expert instructors.
- Emily & Fred / Faithful Photography